Ocean Hunter Liveaboard Booking System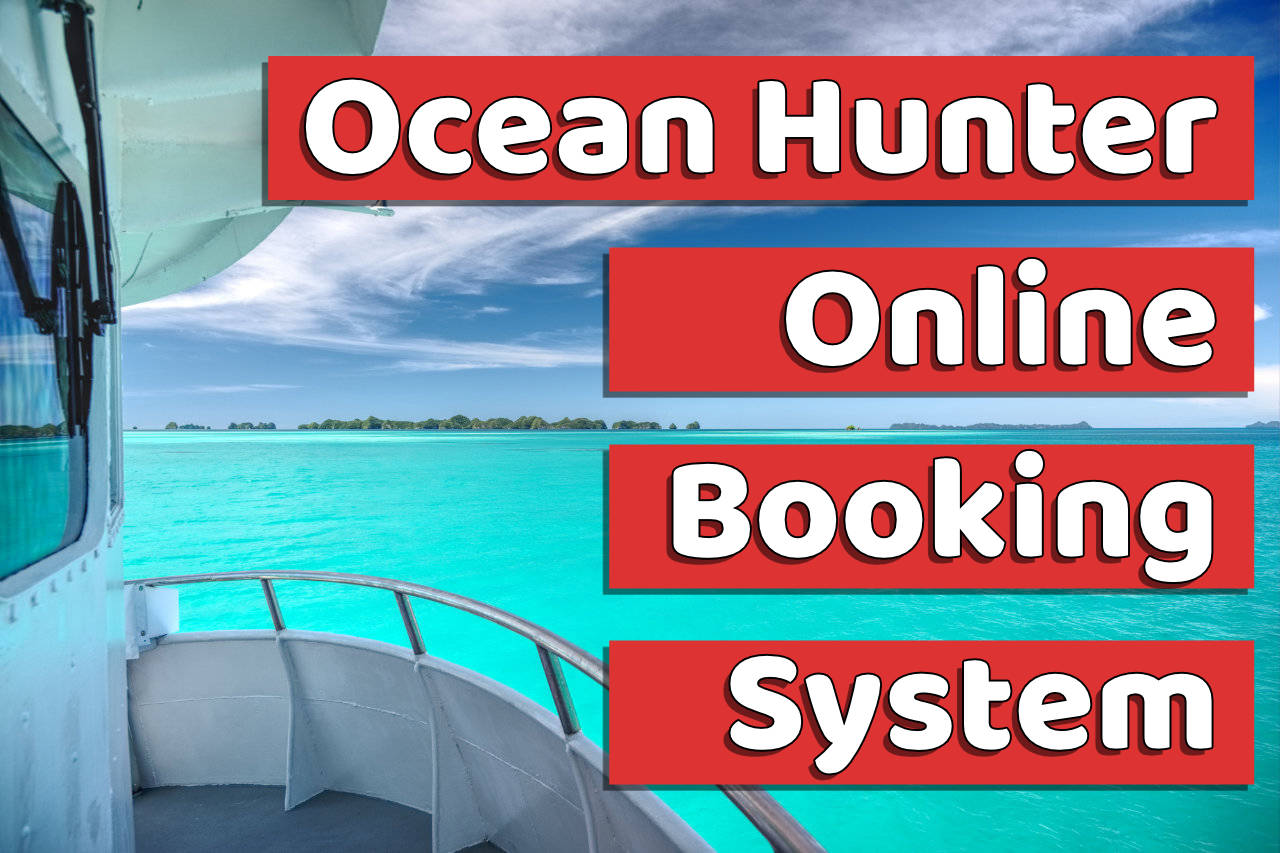 Navigating the Ocean Hunter Palau Booking System
After our website is done loading the list of available trips which can take a few seconds, you will be able to filter the trips by 4 categories, of which 2 are the ones you'll most likely use to narrow your search instead of scrolling through a wide array of Ocean Hunter trip offers.
Select your travel dates
Our date field is set to show you all available trips for 12 months from the date of visiting our website until the same date the following year. If you already know your travel dates please select them from the popup calendar - this will narrow your search.

Search by Trip Duration
This option will allow you to filter our trips by duration - Ocean Hunter offers the following standard trips:
| | |
| --- | --- |
| Best of Palau | 7 Days |
| Palau Explorer | 10 Days |
| Virtuoso Trip Palau | 12 Days |
Custom amount of days may be available for Full Charter bookings.

Booking with Ocean Hunter Palau
Once you have found the right trip for you and clicked "Select Cabin" our system will take you to a screen on which you'll see all available cabins by cabin type, cabin number and availability. If you click on the photo of each cabin it will provide details about the cabin. If you want to see a description of the trip you are interested in and learn more about it, you'll find this information by clicking "Itinerary Details"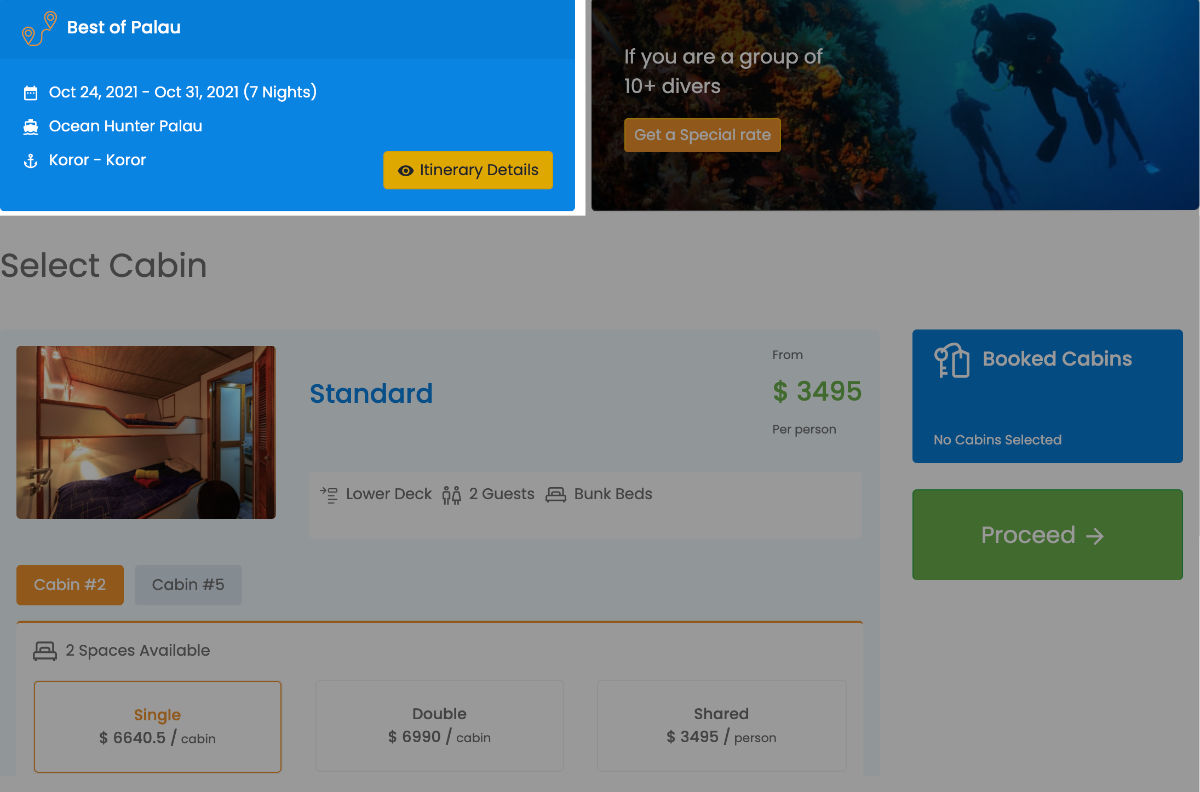 Booking Options
For each available cabin you'll find 3 booking options, namely "Single", "Double" and "Shared".
Select Single if you wish to book a cabin just for yourself. Both bed spaces will be exclusively yours.
Select Double if you are planning on using the cabin with your partner or friend.
Select Shared if you are traveling alone and don't want to book "Single". It may be in the course of filling Ocean Hunter's spaces that you'll be sharing the cabin with someone of your gender, who also booked "Shared".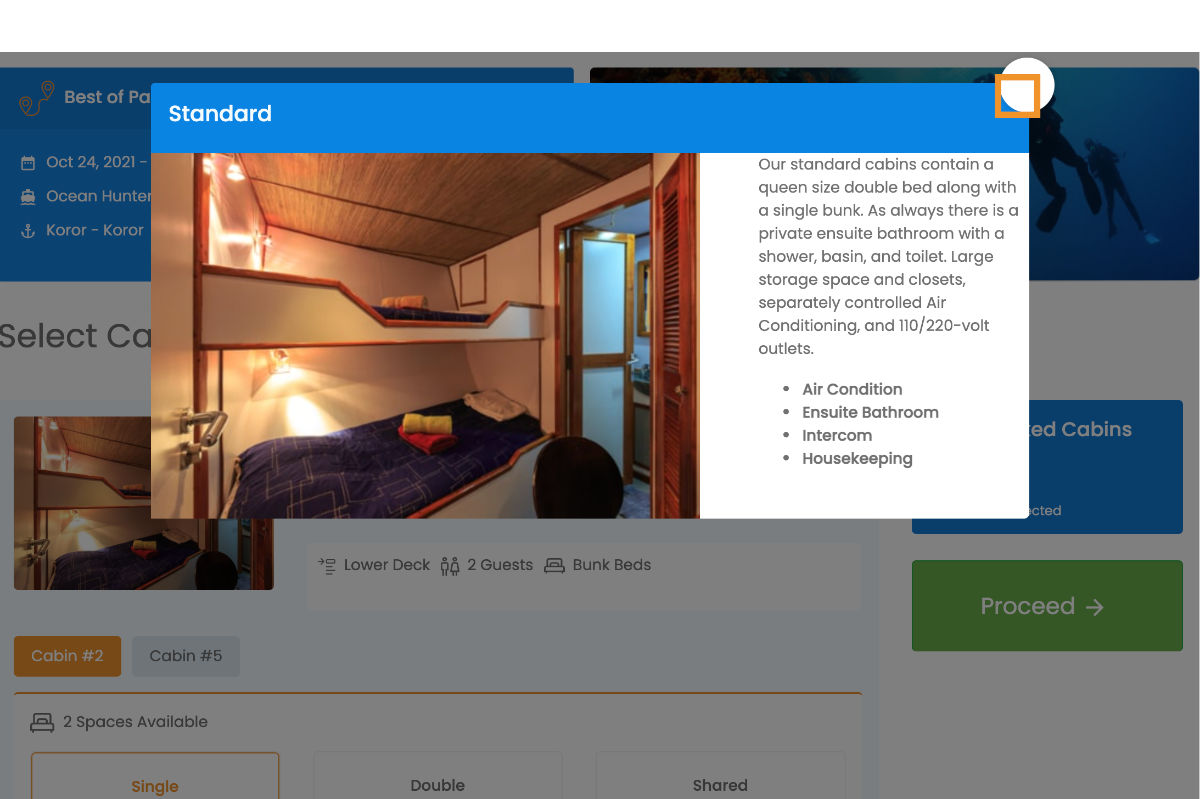 Booking your cabin with Ocean Hunter Palau
Select your cabin - available cabins will be shown on the left - if only one space is available for "Shared" the gender of the booked person in the selected cabin will be displayed. Enter Gender and Name of the persons who will occupy the cabin and press "Add". Your booking will appear in Booked Cabins. After you have added your booking you'll be able to book additional cabins of the same cabin type if you wish.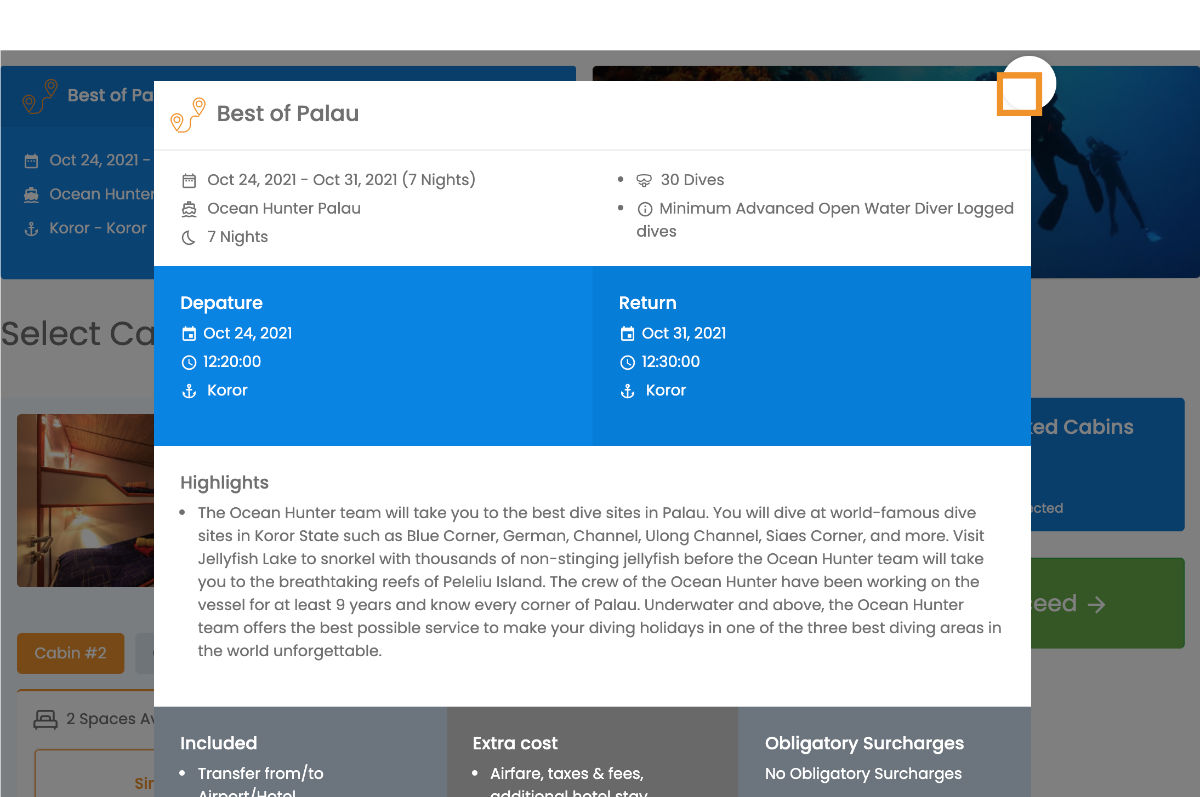 Reservation & Payment for your Ocean Hunter Trip
Once you are happy with the selected cabin/s and booking option/s and have filled gender and names of all travelers press "Proceed".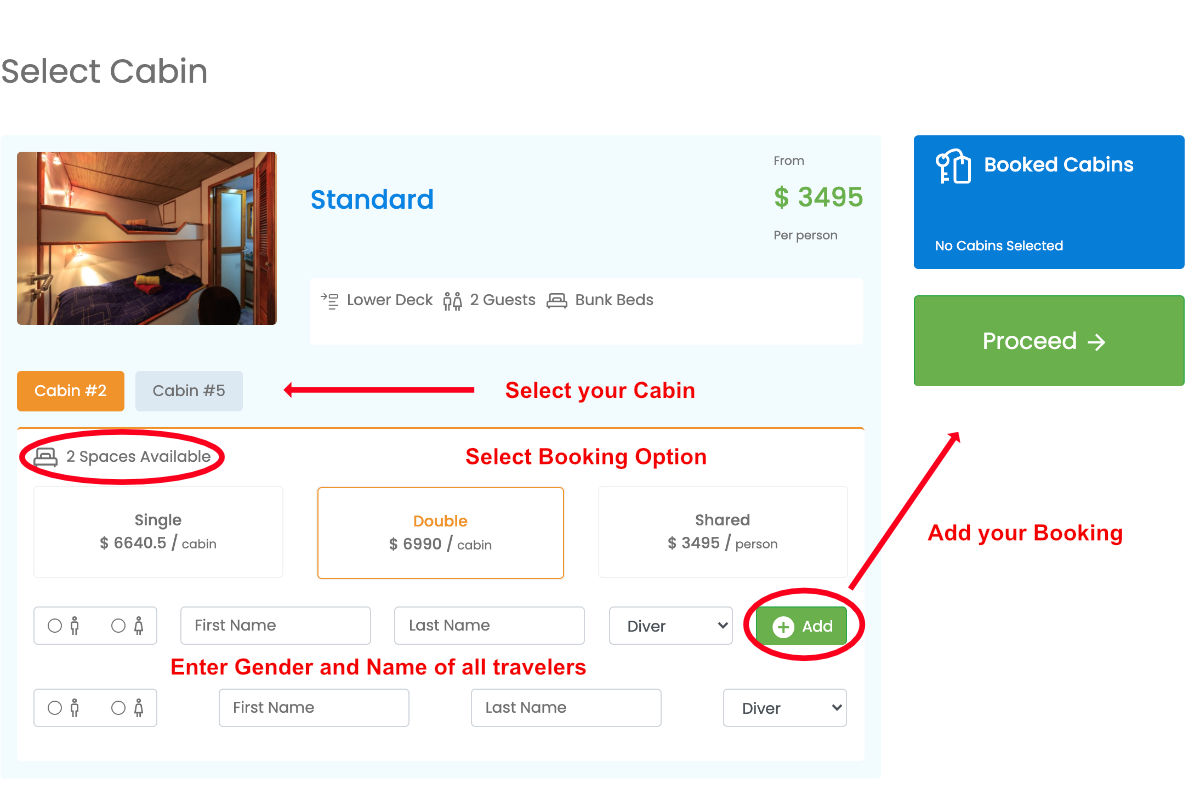 This will take you to the last screen of our booking system, where you'll be able to review your trip data and add extras you may want to book, like a Nitrox package for example, give us name and address for the invoice and let us know about special requests you may have. All "Optional Supplements" payments will be due aboard Ocean Hunter Palau upon check-in. As soon as you have read Ocean Hunter Palau's Terms, Conditions and Cancellation Policy and clicked "I agree to the Terms & Conditions and Cancellation Policy" you can finalize your booking by pressing "Proceed".
Now your booking is with us and our reservations team will send you your invoice and a check-in link where you'll be able to provide passport data, dietary restrictions, pre-order dive gear, etc. Once you'll touch down in Palau the only thing left to do will be signing your checkin file, go aboard and enjoy our fantastic services.
SEE YOU SOON ABOARD OCEAN HUNTER PALAU
Try Ocean Hunter Booking System
Finally booking Ocean Hunter Palau is available 24 hours a day. Book the ultimate luxury Palau liveaboard adventure with the press of a button!
CLICK AND TRY IT NOW