Explore the Rock Islands of Palau
The most interesting things you should know about Palau's world-famous Rock Islands before visiting
The rock islands of Palau are only one of the many reasons to visit the country. Palau has gained a reputation as one of the world's most incredible dive destinations, and with good reason: world-famous dive sites like the Blue Corner and the German Channel are a must-see for every diving enthusiast.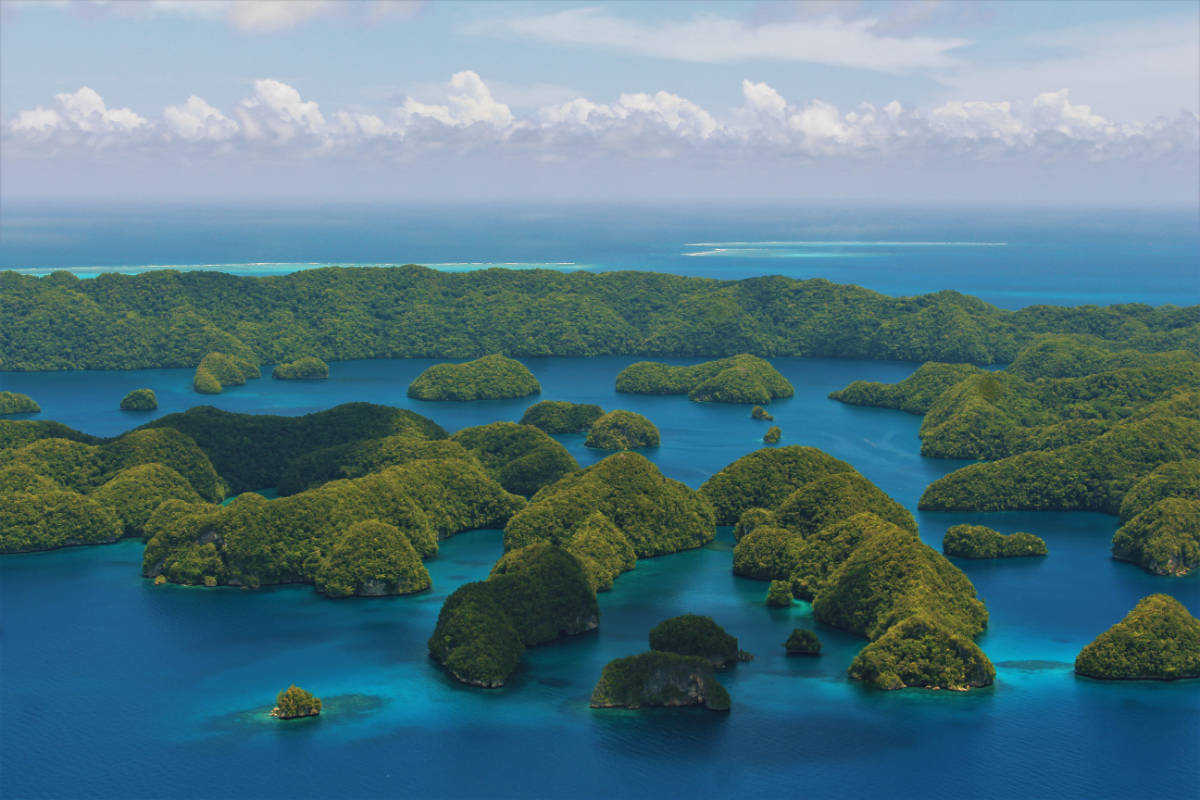 The Palau Rock Islands, also known as Chelbacheb, are a collection of several hundred small limestone or coral outcroppings in Palau's Southern Lagoon, located between Koror and Peleliu. They are a part of the state of Koror. With a total area of 42 square kilometers (16 square miles) and a maximum height of 207 meters, the group comprises of between 250 and 300 islands (679 ft).
Many of them have become famous due to their unusual mushroom shape. There are 52 marine lakes on these islands, one of which is the world-famous Jellyfish Lake. Beautiful beaches, azure lagoons, and the distinctive umbrella-like formations of many of the islands are all features of the Rock Islands. Many of the islands have a mushroom-like shape with a thinner base at the intertidal notch. Erosion, as well as a dense community of sponges, bivalves, chitons, snails, urchins, and other algae-grazing creatures, are responsible for the indentation.
Clearly one of the most beautiful places on earth. Amazing landscape, pristine water - and snorkeling along the big drop is as beautiful as it gets.
James G.
Bird Watching in Palau
BirdLife International has designated a 4,912 hectare site encompassing the Rock Islands as an Important Bird Area (IBA) because it supports populations of most of Palau's endemic birds, including Micronesian megapodes, Palau ground doves, Micronesian imperial pigeons, Palau fruit doves, swiftlets, kingfishers, and others.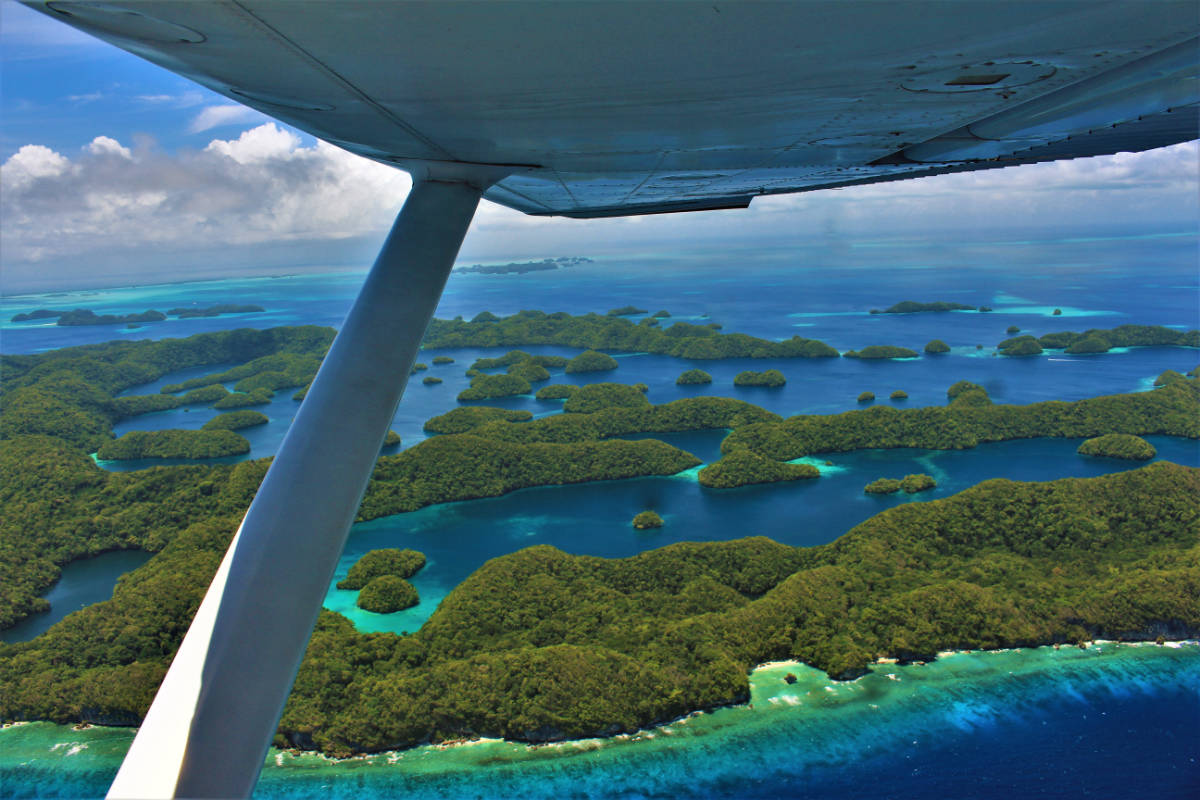 UNESCO WORLD HERITAGE
The Koror Southern Lagoon - UNESCO World Heritage Site since 2012.
On the planet, there are 1031 UNESCO World Heritage sites, including 802 cultural sites and 197 natural wonders such as the Great Barrier Reef. Furthermore, only 32 are considered ecologically and culturally significant, with Palau's Rock Islands being one of the 32 and the only one in the South Pacific.
These site are chosen by certain criteria, of which the Rock Islands received a 5 out of 10 rating - here are the 5 criteria:
To bear a one-of-a-kind or at least noteworthy witness to the tradition or culture of a current or extinct civilization.
To serve as a shining example of a traditional human settlement, land use, or sea use that illustrates a culture (or cultures), or human relationship to the environment, especially when that connection has become fragile due to irreversible change.
To protect rare natural occurrences or places of remarkable natural beauty and artistic significance.
To serve as rare examples of continuous ecological and biological processes in the formation and development of terrestrial, freshwater, coastal, and marine ecosystems, as well as plant and animal populations.
To safeguard the most significant and critical natural habitats for the conservation of in-situ biological diversity, particularly those containing threatened species of global scientific or conservation interest.
Please share our content on your Social Media
As you pass by the various islands, it's clear to see why UNESCO classified the magnificent Rock Islands as a World Heritage Site. Wave activity has worn some of the lowest areas of the limestone that makes up these islands over millions of years, resulting in "mushroom" shaped islands.
On certain islands, hiking pathways lead to caverns with 4000-year-old carvings on the walls, indicating an ancient society.
They are true spiritual havens. One of the reasons Palau's reefs are so healthy and vibrant is because juvenile fish may grow safely, marine animals can congregate undisturbed to reproduce, and corals can thrive.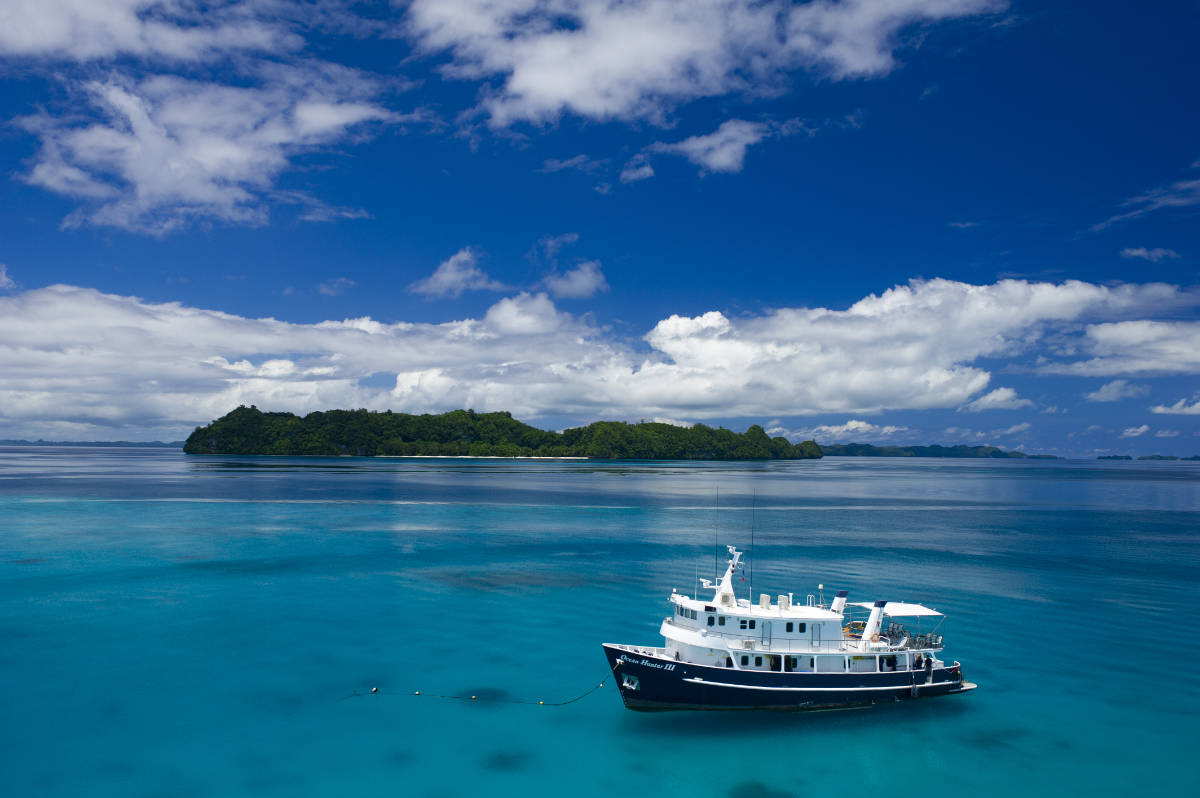 The Rock Islands and diving with Ocean Hunter Palau
During your time aboard Ocean Hunter Palau we will take you to all the best diving sites in Palau. The majority of our moorings where we usually spend our nights are between Rock Islands. So, after an exciting diving day, if you enjoy the sunset in one of our jacuzzis, a glass of wine in your hand, the Rock Islands will serve you as an unforgettable backdrop.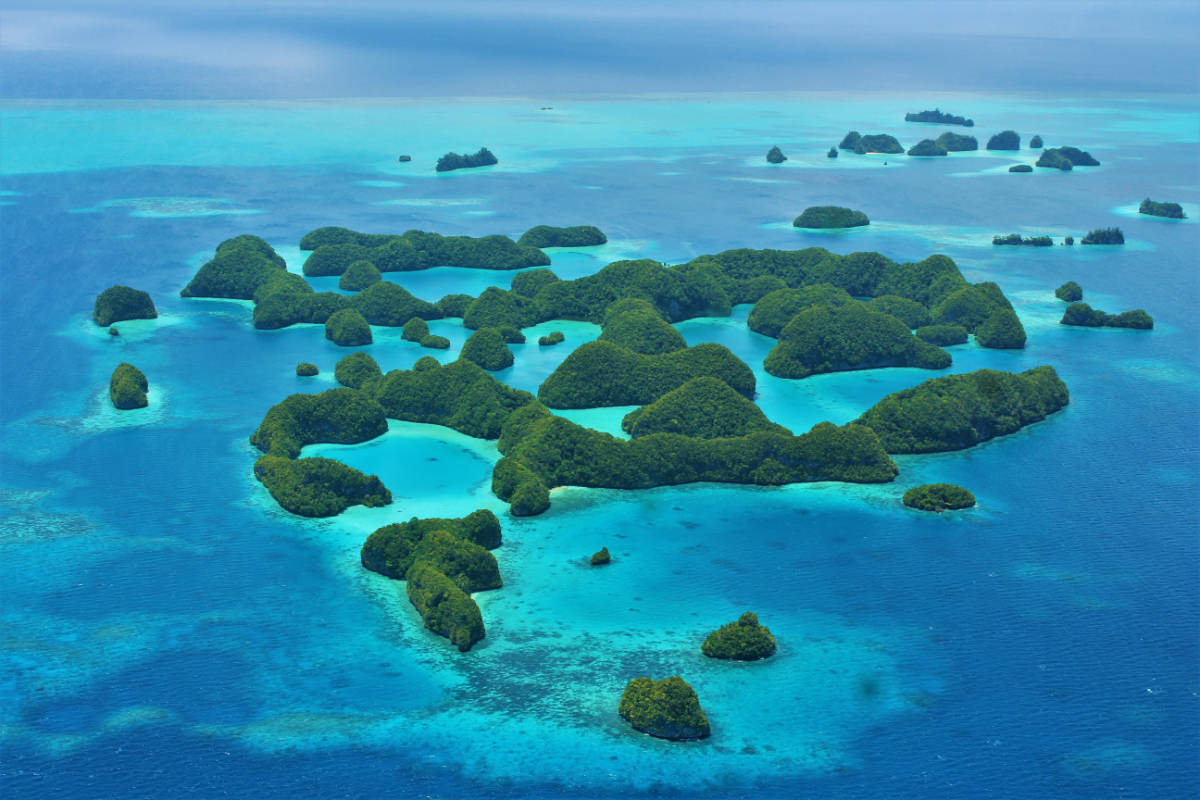 Interesting Fact about Palau's 70 Islands a part of the Rock Islands
Palau's famed 70 islands are an incredible sight to witness. Due to nesting turtles, these rock  islets are absolutely off-limits to the general public. The only way to get close is either by airplane or moored close to the 70 islands aboard our Ocean Hunter Palau, or other liveaboards for that matter. Almost every photo you'll see of Palau's 70 islands was taken during the day.  The beautiful ocean color combined with the unusual appearance of the rock islands make for a  great photo opportunity. Aboard Ocean Hunter Palau, you'll have the opportunity to see the 70 Islands during Palau's gorgeous sunsets and of course take photos for your social media postings.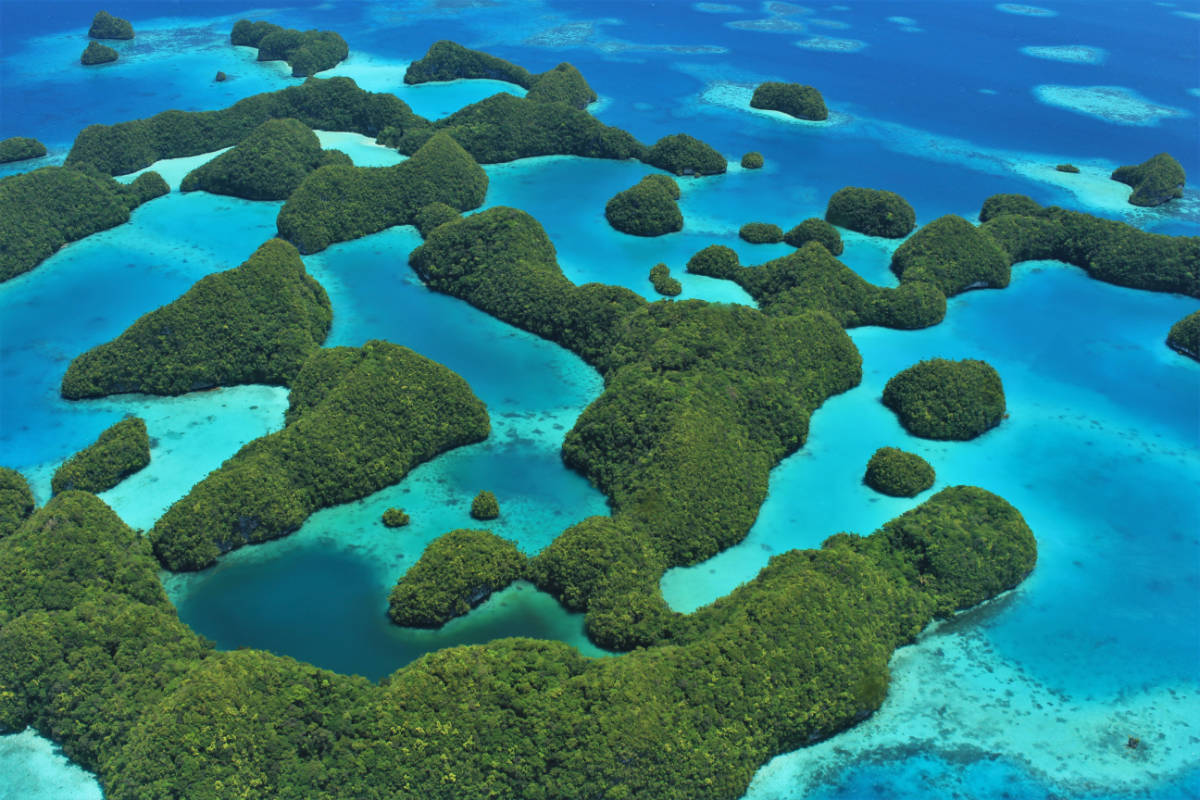 How the 70 Islands got their Name
When I saw the 70 islands for the first time I was confused about its name as it seemed to have way less than 70 islands in the small group. I asked the captain of the Ocean Hunter who told me the following great story, little known to tourists, which explains the name 70 islands.
The captain of the Ocean Hunter Kenneth Johnny told me the following story.
The name of the island group comes from people of Peleliu, during the old time, they paddled with rafts or canoes from their island to Koror.
They normally prepared lunches for their trip - the word for lunch is in our language "okeuid". They started to paddle in the morning and when they reached the group of islands, it was already lunch time - so they stopped to take out their "okeuid" (lunch) to enjoy it at one of the beaches before continuing their journey to Koror or vice versa. A place to have lunch is called "Ngerukeui".
So in short, "NGERUKEUID"(place for lunch) comes from the word, "OKEUID", which is lunch. The first western people noted only the word NGERUKEUID but without the story behind it. Later as they started to name the island group they asked a Palauan after the meaning of the word NGERUKEUID, which means as well "70". This is how one of the most beautiful "Places to have Lunch" on the planet turned into 70 Islands.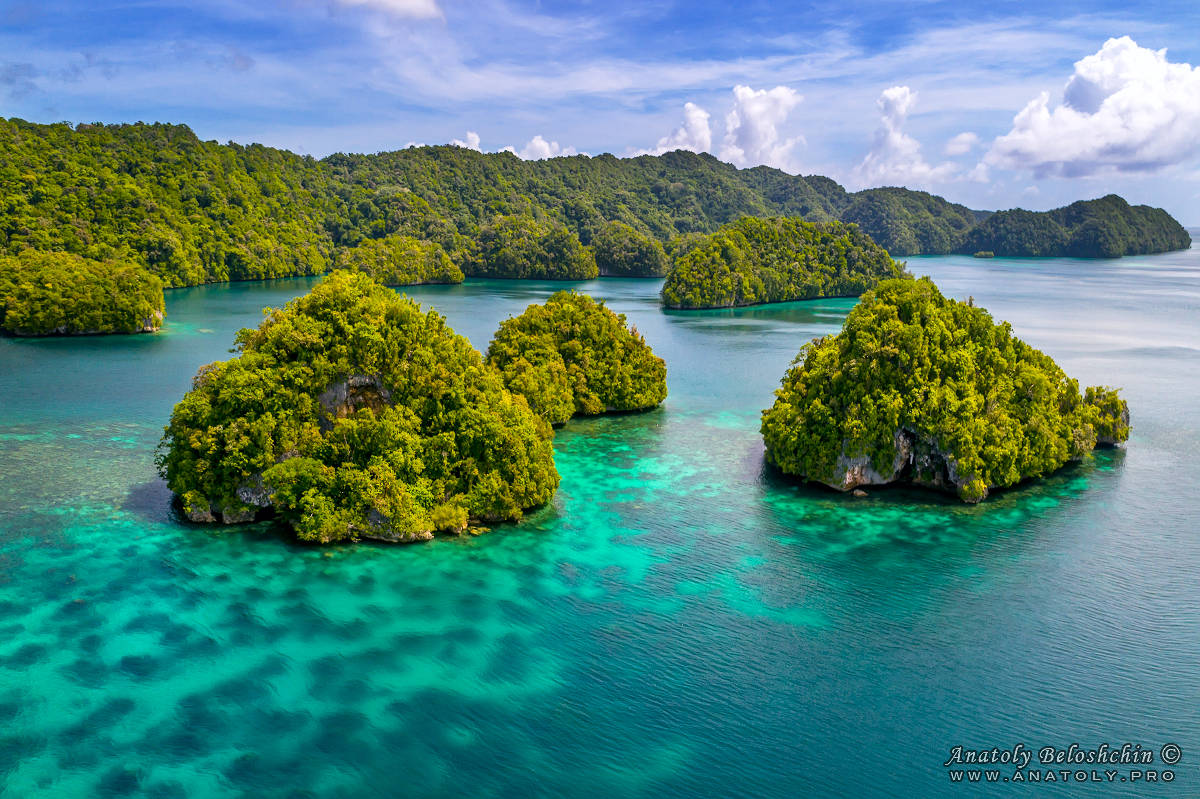 Are you ready to travel to Palau and explore its Rock Islands aboard Ocean Hunter?
If the answer is YES check out our available trips schedule, find the right time for your liveaboard vacation and join us for a wonderful dive vacation aboard Palau's most luxurious liveaboard our Ocean Hunter Palau.