Liveaboard Diving in Palau during the "Palau - Taiwan Travel Bubble"
Liveaboard Diving in Pristine Palau
Palau with its rich tropical coral reefs and vast amounts of marine life is one of the 3 best dive destinations in the world. Thousands of divers are visiting Palau every year to enjoy scuba diving and Palau's stunning nature. Many of those who want to enjoy themselves to the fullest are booking a liveaboard trip aboard Palau's most luxurious liveaboard, the Ocean Hunter Palau. Spending an amazing dive vacation, sailing from one amazing dive area to the next, enjoying Ocean Hunter liveaboard's fantastic cuisine, scuba diving up to five times a day, and relaxed evenings on the vessel's sundeck, watching a beautiful sunset while reflecting on the day's adventures.

Table of Content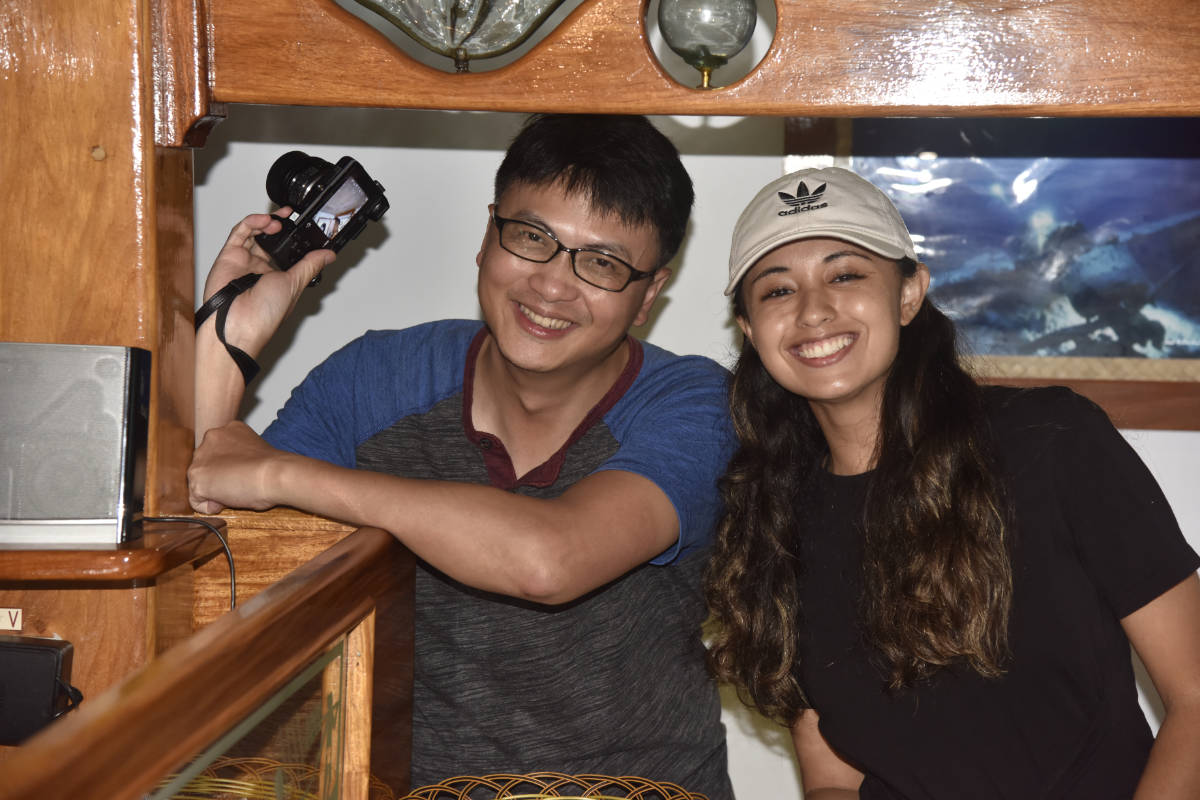 Palau and COVID19
In January / February 2020 we heard about a new Covid virus on the international news, which was apparently very contagious and began to spread very quickly in nearby Asia. In March 2020 we received a call from both the German and Austrian embassies, who asked to send all tourists currently with us on the next available flight back home, as it seemed likely that flight connections to Europe would soon be discontinued in order to prevent the spread of the new virus, called Covid-19. We informed our guests, who were not very happy about this fact, but were left with no choice. Shortly after our guests had left, all airlines normally connecting to/from Palau stopped their flights. Palau's government made every effort to keep Covid-19 from our Covid-free island paradise. The residents of Palau were informed about the dangers and ways of infection by Covid-19 and behaved in an extremely responsible and disciplined way. Any possibility of introducing and spreading the virus was smothered early on. Palau's government quickly understood the concept and importance of herd immunity and acted accordingly.
The extremely well-organized vaccination rollout with the Covid-19 vaccine Moderna began in January 2021 and, according to the MOH (Ministry of Health of Palau), led as of May 14, 2021, to the following result.
First vaccination given to 74% of the population
Both vaccinations given to 55% of the population
The vaccination is in progress as I am writing this blog.
Rumor has it that Palau will open its borders as soon as 80% of the population has received both doses.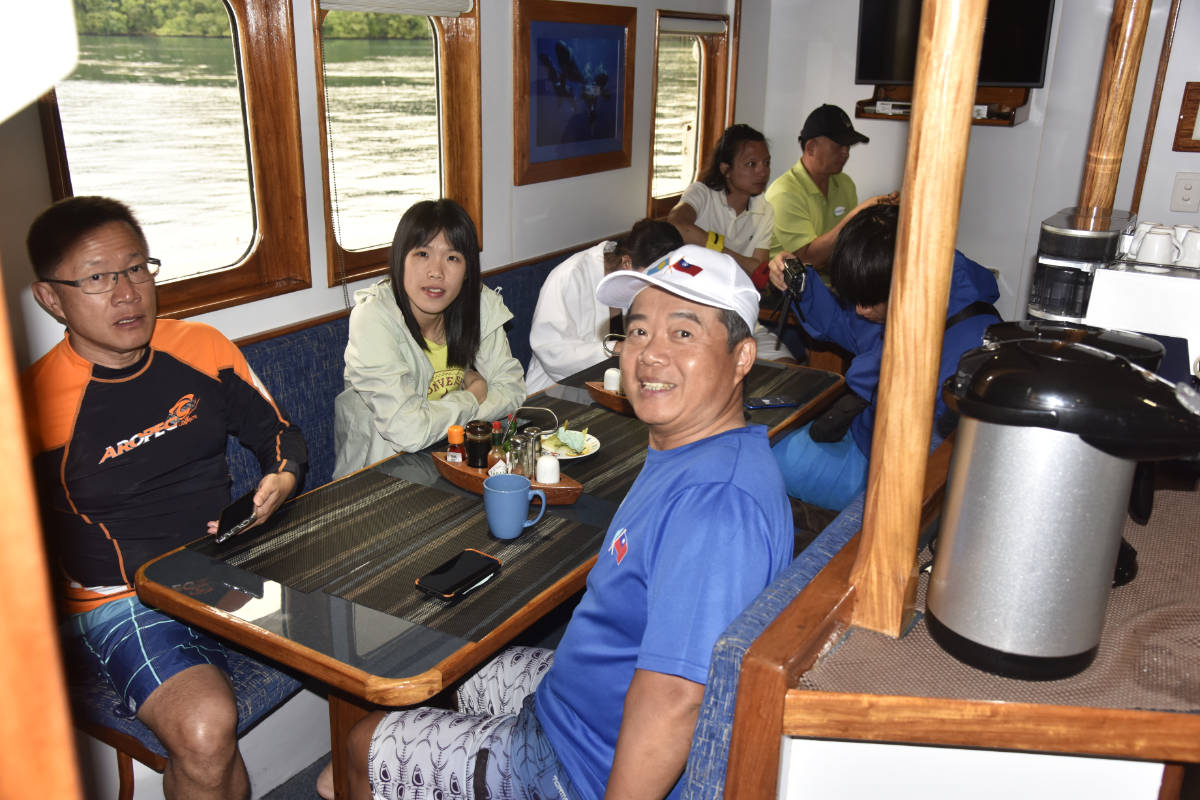 Palau and its businesses in the age of Covid
After all, regular flight connections were suspended and Palau only had flights for medical emergencies and frontline workers from other countries who came to our aid, all business in the tourism industry, as expected, suffered badly. Subsequently, many companies were closed and people returned to their countries of origin. Most local hotels were temporarily shut down. The government began to support businesses and unemployed local residents as best it could. Thanks to our director Tova Harel Bornovski not a single employee of Ocean Hunter and our affiliate companies was dismissed. Our employees stayed on part-time through the entire duration Palau was/is closed. Fortunately, we were able to keep our Barracuda Restaurant open and, thanks to the loyalty of our local customers, we were able to generate at least some revenue. At first, we thought that the virus would be history after a maximum of 6 months, which would turn out to be incorrect. Today,  May 15th, 2021 it seems that by the end of 2021 we can return to a new normal.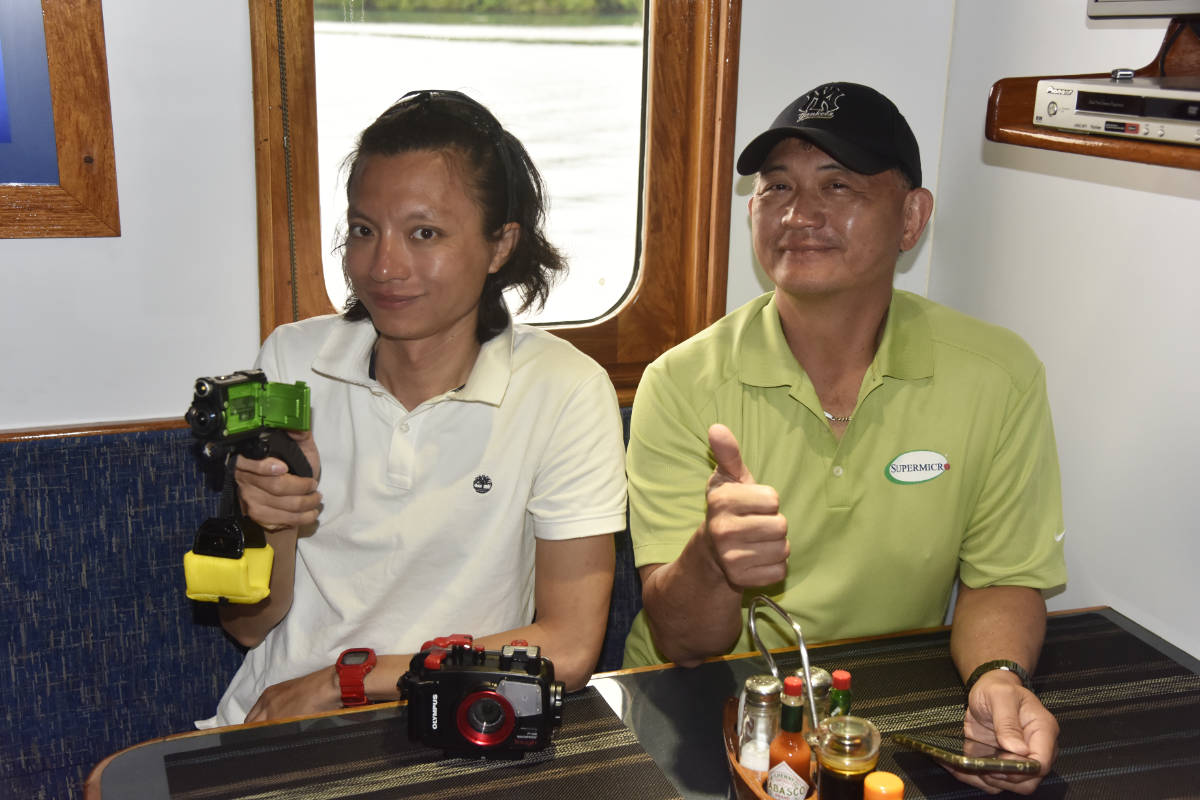 The Palau - Taiwan Travel Bubble
Since there was not a single Covid case in Palau and Taiwan also managed the pandemic in an exemplary manner from its beginning, the responsible government departments had come to an agreement and started on April 1, 2021, with the Palau - Taiwan Travel Bubble as the first cautious step to open Taiwan and Palau. Due to existing Covid protocols, such as limited aircraft capacities and Covid tests, the associated additional costs for the first travel arrangements from Taiwan to Palau were rather high. In addition, travelers from Taiwan were not allowed to use public transport in Taiwan for 5 days after their return, which was another problem for many interested parties. Accordingly, the travel bubble was not accepted in the form as originally expected. 
Anyway - every beginning is difficult!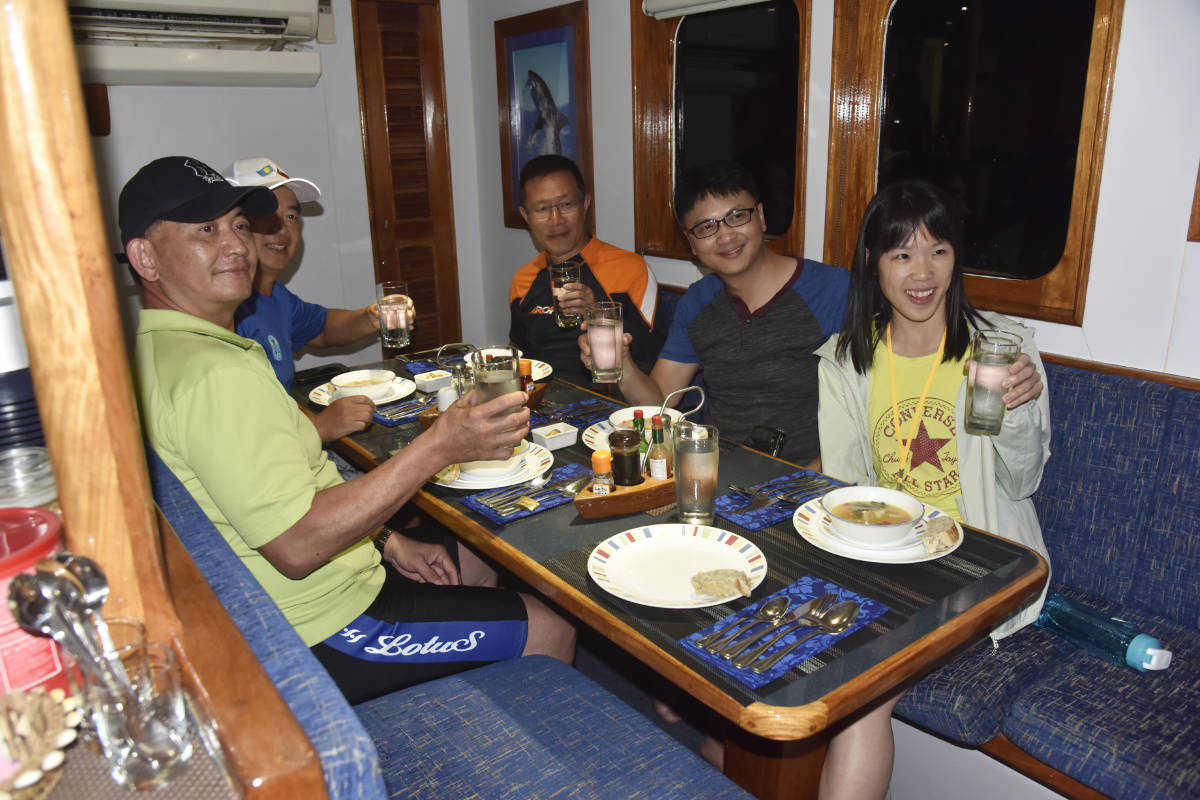 Ocean Hunter Liveaboard and the Travel Bubble
When we learned that the main travel partners from Taiwan were coming to Palau, our director Tova Harel Bornovski decided, with the help of PVA (Palau Visitor Authority), to organize a sunset cruise with dinner aboard our liveaboard, Ocean Hunter Palau. She invited PVA's staff and all Taiwanese travel partners. Much to our honor and pleasure, the Taiwanese ambassador also joined us. Around 4 p.m. our guests arrived aboard our liveaboard, the Ocean Hunter Palau, where they were greeted by captain and crew who made them familiar with the vessel. While our chefs were busy preparing the usual fantastic buffet dinner, the Ocean Hunter's captain, Kenneth Johnny, navigated the Ocean Hunter along with Palau's world-famous Rock Islands and showed his guests the breathtaking beauty of pristine Palau. Only the weather did not cooperate and a thick cloud cover did not allow for a breathtaking Palauan sunset. But it was obvious that the Ocean Hunter liveaboard guests felt very comfortable and entertained even without sunset. The Taiwanese travel professionals were very impressed by our liveaboard, and by the outstanding evening buffet, which was served around 7:00 p.m. and left nothing to be desired. Guests and crew had an amazing evening together! At around 9:00 pm we brought our guests back to the Fish 'n Fins Docks, from where a bus took our guests back to their hotels.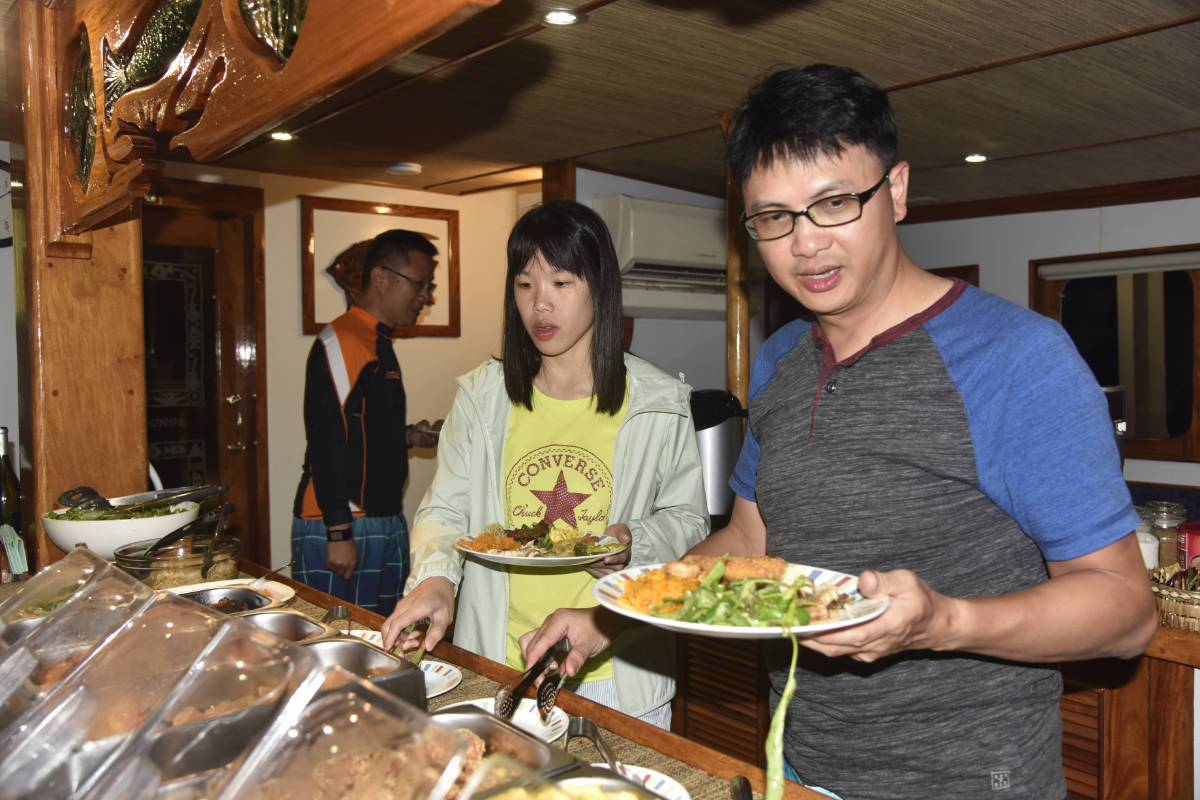 Conclusion
After the tourism industry in Palau "fell asleep" over a year ago and we were only able to generate local revenue through our Barracuda Restaurant, we were very happy to learn that the Palauan government is doing everything possible to reopen Palau safely for all residents and to revive tourism. We are confident that the Palau - Taiwan Travel Bubble will work and that a fresh wind will blow through our businesses, like our liveaboard, the Ocean Hunter Palau, our dive and adventure center Fish 'n Fins, our Off-Road Jungle Tours, and our Barracuda Restaurant. Furthermore, we are confident that MOH Palau will very soon have vaccinated 80% of the population and that our borders will also be open to vaccinated visitors from other nations.
Until then, we hope that you all stay healthy and look forward to seeing you again in Pristine Palau - we miss you!